---
Science Standards by State
In 2005, each state's science standards were graded from 0-100 percent by the Thomas B. Fordham Institute. Specific recommendations were made for each state. See the data here.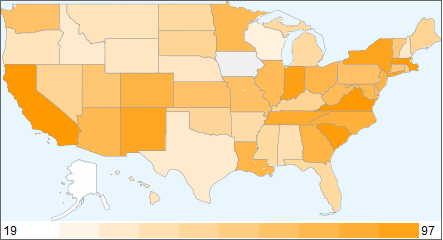 Programs for the OLPC Project
HippoMath - A math game that can be set to multiple difficulty levels. Written for eToys.
DinoBook - A dinosaur fact book written in Python.
Help support the One Laptop Per Child project

Essays and Letters
Essays
Letters
Recommended Reading or Watching
Available on Google Book Search
The Ancestor's Tale, Richard Dawkins
Awearness, Kenneth Cole
Born Digital, John Palfrey
Chariots for Apollo: The Untold Story, Charles Pellegrino and Joshua Stoff
The Counter-Creationism Handbook, Mark Isaak
Hot, Flat, and Crowded, Thomas Friedman
Innovation Nation, John Kao
The Language of God, Francis Collins
Leaving Microsoft to Change the World, John Wood
The Long Tail, Chris Anderson
Shift Happens, Karl Fisch
A Short History of Nearly Everything, Bill Bryson
Successful Response Starts with a Map, National Research Council
Your Inner Fish, Neil Shubin
Science Leadership
National Chief Technology Officer (CTO): new position being considered by the Obama administration, designed to open up the executive branch and various departments, as well as advise the President on technology-related issues across many fields of science, engineering, health, and education.
Office of Technological Assessment (OTA): a nonpartisan study group, defunded in 1995, which advised Congress on science, technology, and engineering issues. There is a movement to re-establish the OTA with an added emphasis on citizen interaction: both informing the public on technical topics and encouraging input from and development of citizen science organizations.
Map of Science Controversies
I have done my best to research conflicts about evolution, the Big Bang, and other well-established scientific concepts. A red pin indicates a statewide controversy, other pins indicate a district or county controversy (Note that Hawaii and Alaska also have pins).
The map takes a few seconds to load.